Mermaid's Palace Casino
Mermaid's Palace Mobile Casino is a wonderful casino in your pocket that can be enjoyed on iPhone, iPad and all Android mobile devices, be they smartphone or tablet, and no matter which device you fire this great casino up on, you'll get a quality US friendly mobile casino that really does provide the goods. There are so many great mobile slots available, one of the biggest mobile casino bonus offers we've seen and a whole host of player rewards on top. The casino itself has a unique and different mermaid theme, we think it's the only one of its kind, supplying great graphics and very good presentation.
Getting signed up is so simple and hassle free, in fact it will take at the very most, one minute of your time, and when done you may choose to play free money mobile slots and games, or choose the real money option. Choosing the real money option will of course provide you with all of those real money mobile casino thrills, and there are many ways in which US players may fund their account, and when doing so, that big bonus awaits. You may also sign up at the regular desktop casino, and with the same login details you will have access to the online casino and the mobile casino.
Mobile Slots Promotions at Mermaid's Palace
Mermaid's Palace offers a huge welcome deal, a massive offer of a 100% match bonus up to $20,000, and while we're pretty sure that not many players will be depositing that much, you can of course still get the 100% bonus with much smaller deposits, $25 in fact is the minimum deposit. That double your money bonus is enough to get you to the great selection of mobile games, however there's plenty more on the way. Mermaid's Palace will also provide you with many reload bonus deals and big monthly specials, and as a player you will always receive notification of when these big mobile bonus offers become available.
Mobile Slots and More at Mermaid's Palace Casino
Mobile slots are delivered by the bucket load at Mermaid's Palace mobile casino and each one has been beautifully optimized for mobile play, meaning that the navigation on your touchscreen device is smooth and simple. You will find 5 reel video slots that are superbly crafted with wonderful animations and eye catching graphics, and such slots as Small Soldiers, Trick or Treat, Wild Wizards and Samba Spins truly bring your mobile device to life. All mobile slots are provided by a leading US mobile slots development company, ensuring high quality mobile gaming, and Mermaid's Palace are always adding to this huge selection.
Should you fancy something a little different then you may also enjoy mobile European roulette, and if you're video poker player then you'll find games galore at Mermaid's palace with the great variations of Aces and Faces, Jacks or Better and Double Double Bonus Poker all up for grabs.
Are you looking for some new Saucify slots to play?
If so, your search ends at Mermaids Palace mobile casino. You cannot always find Saucify slots at all online casinos; it is one of the less well-known software providers around today. However, that is fast changing, and Mermaids Palace is playing a crucial role in making that happen.
Once you find out just how entertaining their slot games are, you can expect to enjoy some excellent fun and games courtesy of the full Saucify collection. Mermaids Palace also brings you every new game from their collection upon release. So, no more searching for the new games when they are released. Just visit Mermaids Palace on your smartphone or tablet, sign in, and you're ready to have fun.
Be entertained by Mermaids Palace mobile casino tournaments too
Could it get much better at this casino, you might ask? We think it can, thanks to their range of great tournaments. These are designed to appeal to as many players as possible. With dozens of games regularly appearing as the focus for these tournaments, you can enjoy being entertained in different ways every day of the week. Additionally, you will always have more winning chances when you enter these tournaments. After all, you get all the regular prizes as shown in the paytable with tourney prizes thrown in as well. What could be better?
Would you be lucky enough to claim some rewards too?
Maybe… this casino is known for its generosity! You can find out more by visiting Mermaids Palace on your mobile device, so you can see how easy it is to become part of their rewards program. Will you get some good deals by doing this? We think so, but it is up to you to find out what the latest treats are if you sign up today.
Instant play games are a thrill to play
Are you bored waiting for software to download? It might be free, but it doesn't mean it is always easy to use. If you are ready to experience a fine and thrilling casino, get ready to become part of Mermaids Palace mobile casino today. Signing up is easy - even via a mobile device.
Once you're through those doors, the complete collection of instant play games will be yours to explore. That means you can appreciate just how many great games there are, from Saucify to others. Will you discover new games you haven't seen before, or reacquaint yourself with some old favorites? Visit today and find out more.
Bitcoin is becoming the favored way to deposit and withdraw too
What's more, it is added to Mermaids Palace mobile casino for your convenience. This means you can appreciate a secure and confidential method for depositing funds into your account, ready to use when playing your favorite games. You can also expect quick withdrawals if you get that far. Will your luck hold out and deliver some prizes to you, so you can see how good the withdrawals are when you choose Bitcoin to receive them?
Getting Started
Mermaids Palace Casino is a scintillating new online gaming casino spot for the erstwhile gambler. With practically all of the same attributes and benefits of the more well-known gaming spots, the deep blue interface is as inviting as it gets, and the bonuses and promotions (to be discussed later in this article) serve to make it even more enticing. All of this is highlighted by the fact that the mobile option is quite robust here, allowing you to play all of the games for real money while you are on the go - there's no need to be rooted to a desk!
Once you spend the few minutes required to sign up and access the real money games, you'll be squarely on the way to having a chance to change your future. There's an Instant Play option, of course, so there's no obligation to play for real cash. To sweeten the deal, Mermaids Palace Mobile Casino offers a Welcome Bonus of 100%; this is good for initial deposits as high as $1000. The software of choice being used here is none other than BetOnSoft, which is presented in one of its new incarnations as Saucify. There are also table games, specialty games and many more odds-and-ends that you can find to play for both the download option and the free to play option. As for the eligible platforms, you can have fun with the games inside on Android, Apple iOS and even Windows - the latter is certainly growing in popularity.
Mobile Casino Lobby
The mobile casino lobby is very inviting at Mermaids Palace Casino. Although many of the same aspects of the desktop landing page are available to you on your tablet or phone, the interface is tailor-made for the smaller screen and is thus more navigable. The most important menu items are clear and present, with the Casinos section, he Slots section, the Tournaments section, the No Deposit Bonus section, the Bitcoin section and the Casino News section arrayed right at the top of the screen as clickable elements. There are even more promotions once you become a member and receive your personalized email account.
Slots - What to Expect at Mermaids Palace Casino
When it comes to the slots section, since this casino runs on BetOnSoft, you can expect some of the most varied slot selections of any online casino.You've got access to the Classic Slots cadre such as Fire Dragon Slots, which is an Asian themed 3 reel slot with a single payline. On this payline, however, you can put down up to 3 coins of different denominations for a potentially big win. Alternatively, if you want to try your hand at more graphics-laden fare, then the 5 reel video slot option is always on tap. With this one, you will find Ancient Greece, with its 5 reels and 12 paylines that offer the gamer plenty of chances to win. Don't stop your search there, for there are themes from Ancient Egypt and Central American mythologies, as well as the old gods of the Nordic realm. Point is, the slots section at Mermaids Palace leaves nothing to chance in the entertainment department.
Tournaments - Play with Others
In our humble opinion, the tournament section is where the most fun is at. This is not a frivolous assertion, as the numbers are on our side with this one - droves of online gamers flock to this section to try their luck against other gamblers from all over the world in a competitive endeavor. Most of the gaming options in this category are free to enter, too, so you get the best bang for your buck. Since they run daily, you never have to miss a chance at the pot; the Mr. Sloto Daily 100 Freeroll tournament is just one of the many options that are available once you download the casino software and sign up. The pot amount can vary between as little as $25 to as much as $1,500. Some of the tourneys also pay out a pot percentage, so the amount of money you stand to potentially win is dependent on the number of people who play.
No Deposit Bonuses - House Cash at Mermaids Palace Mobile
As good as welcome bonuses are, the presence of no deposit welcome bonuses are even better. How do these work, you ask? Wait - haven't you ever heard of the "don't look a gift horse in the mouth, mantra?" Just enjoy it by signing up! The point is, the competition between online casino gaming halls is so heated, the consumer marketplace has driven the invention of this awesome attribute. In a truly generous option, you do not even have to be a new player to take advantage of the no deposit attribute! To learn more details, just head to the mobile version of the casino and sign up. And don't forget, after the bonuses are delivered, you are now eligible for ongoing promotions that manifest themselves in your inbox nearly every single week as a member.
Bitcoin - Cryptocurrency is Welcome Here
Digital currency has any benefits, chief among them being the ability to be used across many borders without restrictions. In the dubious legislative realm of online casinos, this is worth its weight in gold. You do not need to worry about international limits concerning credit cards, debit cards or web wallets - although plenty of the latter are accepted at Mermaid Palace Mobile Casino. Furthermore, Bitcoin is slated to usher in a new era of easy payments, so now may be a good time to get in on the action. By not being tied to any particular country, the value cannot be inflated by government spending - which means you get to keep more of your money. At the present moment, Bitcoin is volatile; but many experts believe the value can only increase in the years to come. Head to the casino lobby; you may be able to take advantage of any Bitcoin promotions that are currently running in the house.
News - Keeping You Apprised of Online Casino Information
Instead of performing a separate internet search while you're online, you can simply navigate to this tab and learn more about the goings-on of the casino world. The good thing is that the site is accepting of all three of the major platforms in Android, iOS and Windows. Some of the top websites for casino news have a partnership to display important updates to gamers, so you never have to be out of the loop in this regard. In particular, when new casino games that have been in development are released, you will receive the information right away when you visit this tab - as well as any online reviews that have been put up. Download the Mermaid Palace Mobile Casino app at your earliest convenience to begin playing some of the best slots and table games in the online arena.
New Mobile Saucify Slots
Saucify, by way of BetOnSoft, is the primary slots provider for Mermaids Palace Mobile Casino. You've undoubtedly heard the name before if you have spent any time whatsoever in the online casino gaming space; after all, they are the architects of some of the most famous video slots around. Because of the breakneck pace at which this software suite puts out new games, there's a dedicated section to new slots on the landing page, which allows you to be one of the first ones to try it if you visit the lobby frequently. Let's now take a short look at a handful of the new slots that have just been released recently for your gaming pleasure.
Gunspinners Slots - With 5 reels and 30 paylines, this gargantuan slot has a lot of different ways to win. The theme is fantastic, in that it transports you back to the times of the Old Old west, when men could not afford to be frivolous. Women and children could be careless back then; but men could not be. In the time of duels over honor, and Westward expansion while chasing after the riches necessary to make a life for one's family, this slot tries to be true to life with its many prizes and luck-driven opportunities for cash. You can win up to 20 free spins in the normal game, along with a 4x multiplier to extend any winning streaks that you happen to chance upon. Keep an eye out for the scatter symbol, for it shall set you free to explore and unlock many of the remaining prizes in the game. The desert theme of Gunspinners Gold Slots has cowboy boots as symbols, as well as cacti, Wanted posters, old-fashioned revolvers, tequila and a man on a bucking horse. You can play without downloading the casino software but you will not be able to win any of the cash.
Wolf Street Slots - You might have seen the world famous movie starring Leonardo Dicaprio; the title was Wolf of Wall Street. This title appears to be a take on these modern day tycoons, albeit with a lot less testosterone on the reels. Sporting 5 reels and 25 paylines, it certainly antes up the number of ways to win for the player. For the real money guys and gals, the coin sizes range between one penny to a quarter, with the max amount per game being $31.25. The stock broker is the Wild symbol, and it can replace any other symbol in the game for completion of a winning payline. It's not the only important symbol here, though - there's also a neon Scatter that can unleash a torrent of free spins. For example, depending on how many appear, you can win 12 spins or an extra 18 free games. Some of the other paying symbols include a red high-heeled shoe, rolls of dollar bills, a black credit card and a computer with stock symbols on it. In closing, this is one of those slots that are worth playing for real money because of the 4000 x top jackpot. Choose your real money gaming options wisely, however - download today and have fun!
Vikingdom Slots - The time of the Vikings is long gone by, but the legends persist, and this 5 reel 3D video slot from Saucify inscribes their struggle into posterity. It is a visually stunning ode to the Nordic warrior class, and a boon to real money players that do not mind putting up to $50 on a single game. You do, however, have the option of spending as little as a penny per line , so this game is for both low rollers and high rollers alike. The wild symbol is a Viking Warrior holding a crossed axe; it holds a lot of surprises in this 40 payline slot. As you continue playing, you might notice or come across the 2000x payout that's possible if you strike the jackpot. Let's not forget that women were instrumental back in the days of the Vikings, since someone had to stay home and look after the kids. Although ensconced entirely in legend, the lady vikings are well represented on this slot board as a scattered bonus icon. She ushers in a multitude of free spins; depending on how many of her show up on the reels. Check out this great Saucify game; Vikingdom Slots has the potential to be a real winner!
Stones & Bones Slots - With 5 reels and 30 paylines, Stones & Bones slots is on the large side; as such, there are enough ways to win to warrant a grand old time for real money players. It's a Saucify favorite, and the symbols on the reels include bone-like poker icons as well as animals from before the Stone Age. there's a Smilodon symbol; which is more commonly known as the saber tooth tiger. There's also a pterodactyl icon, a rolling stone like the one the Greek Sisyphus had to push for all eternity, a stone axe, a piece of ham meat cooking over an open flame and the Stones & Bones lettered symbol. The wild symbol is precisely this one, and five of a kind can unleash a payout of 2000 coins. Four of this emblem can get you 750 coins and three of them are worth a considerable 125 coins. The scatter symbol is the red-haired stone wife; she can deliver free spins if 3 of her appear on the reels, 10 free spins if 4 of her shows up, and 12 free spins for the maximum 5 of a kind on the reels. There are, of course, other paying symbols in this video slot; download today to play for real cash.
Elemental 7 Slots - If you like science fiction, then this vibrant game from Saucify is right up your alley. Visually, it's a can't miss; but do not overlook the gameplay. The central theme is downright reminiscent of Plato, with its exaltation of the seven elements: fire, water, air, stone, aether, metal and nature. It has 5 reels and a modest 10 paylines, which makes it on the small side - but it more than makes up for this with sheer verve. For real money players, it might be of interest to know that you can bet as little as $0.01 and as much as $50. It is with the latter bet that the jackpot of 2,500 coins can be yours - the total dollar amount is, of course, dependent on the coin denomination you picked at the start of the game. The Wild symbol shows up on the 2nd, 3rd and 4th reels, and can replace any other symbol to help you complete a winning combination. It is possible to win an impressive 8 free spins with the scatter symbol; the rest of the payouts are included in the accessible pay table. Although Elemental 7 Slots has a lot going for it, there is no bonus game feature.
Traces of Evidence Slots - With 5 reels and a whopping 40 paylines, this is one of those slots that simply causes your jaw to drop. A police procedural with little to spare in the drama department, Traces of Evidence Slot puts you in the front seat as a detective extraordinaire, diving headfirst into the mysteries of an unsolved crime of passion. There are a lot of technical elements to this particular slot, unlike many of the other straight to the point pokeys that are available online. The visual elements of this pokey are in the stratosphere, making a delight to watch and fun to play. All of the cruising elements are here: the yellow police tape, the bullet casings, the handcuffs, fingerprints and various hints and clues as to the identity of the perpetrator. Along the way, you'll be privy to bonus symbols, free spins, bonus games and much, much more.Give the new game provider, Genii, a chance; you won't be disappointed in the least with this large video slot. If you decide to download and play for money, then be on the lookout for the impressive 34050 max coins that you can win here.
No Deposit Bonuses for Mobile Players
If you know even a little bit of Chicago School economics, then you're familiar with the mantra "competition is the engine that drives robust economies." This is all the explanation you need for something you might have noticed recently - the explosion of awesome bonus options for online casino gamers using their mobile devices. These mobile-specific promotions have terms that are becoming increasingly better, since the competition to attract players is so fierce.
One of the newer options is that of the no deposit bonus for US players; with the considerable sum of free money you receive, you can try your hand at some of the best video slots and table games around. The fact that there's no risk is amazing! This feature lets you become familiar with entire genres, all while taking financial advantage of any luck that happens to swing your way. Check out well-known online establishments such as Raging Bull Casino and Slots.LV for the bonus codes necessary to activate your no deposit bonus; every site in the Mobile Millions suppository will, at some time or another, have the no deposit bonus option.
Lastly, rest assured that the no deposit bonus is not only for newcomers; casino loyalty goes a long way in this genre. Even if you've been a member for years, you are still allowed to take advantage of the free cash offers as they make it to your inbox. In particular, the free spins offers that will come your way are considered no deposit bonuses since they let you spin the reels a few times on the House dime. To learn more, visit the online casino of your choice and see what they have to offer.
Tournaments
Slots tournaments for the mobile device have drawn more newcomers to the online casino gaming space in the past few years than nearly any other change. Mobile Millionaire brings you Mermaids Palace Casino as a new addition to their suite of hosted gaming platforms, as well as the tournament play from multitude of other well established gaming halls. When you see the sheer number of options in the tournament section, as well as the impressive assortment of cash prizes, you'll be blown away. Use your Windows, Android or iOS tablet or smartphone to access all of the awesome features of tournament play at Mobile Millionaire Casino.
The list of available tournaments is impressive, at the very least. Try on the Daily Nickel for size; it has a measly 4 penny entrance fee and a prize pool of $25 - which means you can enter a 625 times to justify the entrance fee - assuming you win within that range! Alternatively, or concurrently, you can try the Daily Play For the Pot tournament for a modest $3; the end-game prize depends on how many people enter it, and it is a percentage of the pot as determined by the number of winners. There's also a Daily Free Spins tournament that does not have any entry fee whatsoever, but promises a cool $100 for the lucky winner. Be sure to cast your lot in this one; after all, what have you got to lose?
Continuing on down the list is the Game of the Day tourney; the countdown to join is prominently listed in the eponymous section of Mobile Millionaires Casino. Although it is free to enter, the prize is the pot percentage as determined by the House. The adjacent tournament to this one is the Super Monday Winner Takes All, which has a whopping $250 pot prize despite being free to all entrants. Lastly, you can enter the Mr. Sloto Daily 100 Freeroll every single day of the week for a chance at a percentage of the pot. Read the rules before you play.
More Information on Tournaments Inside
At most other online casino tournaments, the variety is sparse at best. Here at Mermaids Palace Mobile, however, you can literally play a different tournament every single day if you so choose. The versatility and availability of many different options keeps the arena filled with possibilities and intrigue, allowing you to jump between no deposit tournaments and those requiring a modest entry fee for a shot at the pot or prize pool.
And just in case you thought there were only slots tourneys inside, consider the Royal Flush opportunities available in the competitive card games. Play the Blackjack Challenge for a spirited rendition of the world's most popular table game, and then slide on over to the video poker table for a look at the cards and prize pool. And remember - there is a free to enter option for many of the listed tournaments, so that you can have a chance at winning actual cash without putting any in, yourself.
Video Slots at Elite Casinos
What, exactly, kind of slots can you count on being inside the top casinos for tournament play, as hosted by Mermaids Palace and her gaming compatriots? Well, the ones that have voted as the best by online casino gamers, as determined by how many plays as well as how many prizes won. There are no duds in these casino tournaments; the point is to get you coming back for me - and so they are motivated to give you what you want. Here are just three examples of the type of tops slots favored by USA players for tournament - as well as standalone - play: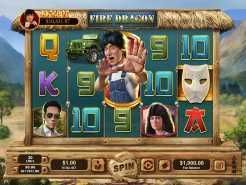 Fire Dragon Slots: This 5 reel, 5 payline video slot is all about the graphics and the gameplay. Developed by little-known outfit, Yoyougaming, the impressive 50,000 credit jackpot is what makes this one competitive with the rest of the industry giants. After all, who in their right mind - assuming they are the type to play for real money - would skip out on such a huge treasure waiting in the wings? This small sized game lacks many of the bells and whistles of other video slots, but it more than makes up for it in straight to the point gameplay. The Fire Dragon, predictably, is the most important symbol in the game and has the potential to deliver the biggest gifts. The paytable is not the most intuitive, but at least you get to keep it on the screen to determine the symbol combinations that pay out. Try Fire Dragon Slots today for your chance at big riches. Nothing is guaranteed in the gambling world other than the fun you'll almost certainly have with this compact introduction.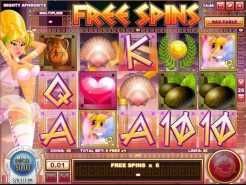 Mighty Aphrodite Slots: In Greek mythology, Aphrodite was the goddess of love and sex, and was a bonafide agent of chaos, given the many immortals and mortals that she bedded (or more accurately, allowed to bed her). Rival Gaming has released a 5 reel, 25 payline video slot as an ode to the Cypress beauty, and the scatter symbols and wild symbols inside will knock your socks off. Multipliers abound, too, and are brought to you by her little brother, the god Cupid. He is capable of delivering a 5x multiplier for more chances at the in-game cash and prizes. The bonus symbol is the flying horse, Pegasus; this is the one that delivers multiple free spins when at least three of it appear on the reels. The other symbols on the reels include a shell, fruits, and the poker card suits.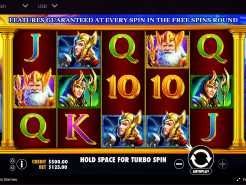 Asgard Slots: Another god-themed slot for the ages; this one visits the old legends of Norse mythology for some online gaming fun. The allfather Odin is here, along with his mighty son, Thor, Frigga, Hodir, Baldur and others. Even magical Loki makes an appearance as one of the lucrative (potentially) symbols on the reels. With 5 reels and 243 paylines, Asgard Slots has a whole lot in common with the video slot Thunderstruck II; if you like one, you'll almost certainly like the other. You can bet 30 cents per spin at the minimum for real money gamblers, or a whopping $300 por spin for those inclined to higher budgets. It's possible to unlock up to 30 free spins for even more chances at this high volatility game. Download Asgard Slots today and see what's in store for you; or just play the Flash version for fun in Instant Play mode.
A Method for Tournament Success
So how do you win at tournament games? Well, obviously there is no tried-and-true method that can be foolproof - these are, after all, primarily games of chance. However, with that said, by playing consistently and playing all of the available paylines, you increase the chances you get without increasing the amount you spend on the entry fees (if applicable). All the games on the site have been vetted by the professionals at Mobile Millionaire and Mermaids Palace Mobile Casino, so you can rest assured that they've curated the best games from the many that are available in the casino world. One thing's for certain: you can always count on the casino to release new options every so often, as better and better games are discovered and added to the library.
Rewards
The Rewards that are available at Mermaids Palace Casino, courtesy of Mobile Millionaires, are some of the best that you would find anywhere. First of all, the Welcome Bonus starts you off good with a Match Bonus of 100% that's good for deposits of up to $1000. After you download and make a deposit, you are considered a Club member and are now privy to the rest of the rewards and promotions; these will be delivered directly to your inbox on a weekly and sometimes daily schedule.
This includes a fantastic delivery of up to 50% Weekly, with the maximum bonus capped at $50. Along with this, for a limited time until the next one, you can also receive 34 Free Spins on the Football Fever Slot using the bonus code listed on the website. The Daily Free Cash Comps bonuses are a club favorite for newcomers and veterans alike. There's no telling how many different goodies can greet you in your casino inbox in the morning, afternoon or evening when you check in for a round or more of play.
Finally, in addition to the standalone prizes that you can take advantage of, there's a Rewards program that Mobile Millionaires and Mermaid Palace Casino offers to continuing members. Just sign up for more details.
Download and Instant Play
Mermaid Palace Mobile Casino directly gives you the best of both worlds, in that you can either choose the free Instant Play option and spin those reels for fun money, or opt for the Download version and enjoy the excitement that comes with being in the running for some cash and prizes. As with any gambling endeavor, of course, nothing's guaranteed - but you've got to risk something in order to get something out of it. For starters, we have a few Instant Play slots that allow entry without any financial obligation; these only require a stable Wifi connection to enjoy them. You can choose to switch over to real money play later if you so desire: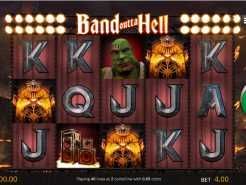 Band Outta Hell Slots - Band Outta Hell Slots certainly has a most unique name that is equally as interesting as it is fun. The software maker is Saucify which, although you likely haven't heard about them much, you can rest assured that they are a good bet to keep you playing their video slots well into the night. Some of the symbols on the reels are monstrous, with a giant green ogre - or maybe it's just a giant man in an ogre costume - as well as all the instruments and accouterments of a music band, stereos, speakers and more. The lower-paying symbols are the poker card jackets. The lead singer is an absolute riot, and gallavants around with the visage of the Great Deceiver, himself. Band Outta Hell is a giant slot with 5 reels and a whopping 40 paylines of gaming fun for both the fun money and the real money player. Give this one from Saucify a slot and descend into the depths of the fiery kingdom to hear the chords of a lifetime.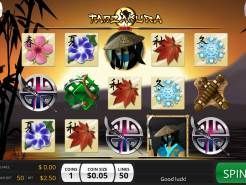 Tanzakura Slots - This magnificent slot with the distinctly Japanese name has 5 reels and 50 paylines, which puts it right up there with gigantic games such as Megasaur and The Slotfather. It's yet another great one from the online slots maker, Saucify. The Wild symbol is a Geisha girl, and she is worth 1000 coins for 5 of a kind on the reels. She can replace any other symbol on the reels except for the scatter to help you complete a winning payline. Another important symbol is the Pagoda, which is the Scatter and unlock a bevy of free spins for the gamer. Some of the othe high paying symbols are fully-equipped samurai soldiers. For 5 of a kind, you get the highest payouts possible for the given symbols. Good luck getting to the Feature Game and unlocking all of the potential surprises that lay in wait.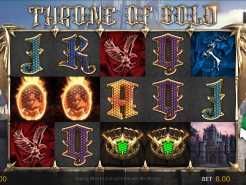 Throne of Gold Slots - A trip to the medieval era in which riches such as gold and silver belonged only to kings, and in order to find purchase in their kingdoms, you must rest their treasures from them. Throne of Golds Slots is an ode to this brutal time, and has 5 reels and 20 paylines for you. If you're interested in playing for real money, then you are able to put down up to 10 coins per payine, and take advantage of the wild symbols, scatter symbols, free spins lurking within the folds of the game and utilize the double high symbols to your benefit. Did we mention that there's a dragon in the game? Well there you go - draw your sword and shield and don't go into the castle unprepared for the battle of a lifetime. The throne of gold is yours to take, if you are willing.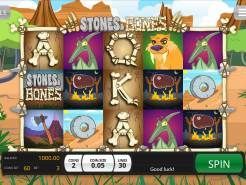 Stones & Bones Slots - Here we come, for some medieval fun! Stones and Bones Slot is from Saucify, and they really pulled out all of the stops to make this a decent game for online casino players. With 5 reels and 30 paylines, it is of a great size for those who need plenty of ways to win. It transports you back to the time when we lived in caves and hunted woolly mammoth meat, with Smilodon the saber tooth tiger slinking about outside. The poker card symbols are rendered in neat bone styles, and the other icons include a pterodactyl, a sabertooth tiger, a rolling rock, ham cooking over a flame, an axe and the stones & bones game logo. The bonus symbols include an angry cave woman who serves as the scatter and grants the lucky gamer free spins when she appears in multiples. The Wild symbol, as you might have guesses, is the Stones and Bones game logo. Another scatter is the man of the house/cave, and then lastly, a dinosaur. There's a lot to unpack - good luck and download and play.
Vikingdom Slots - There was a time in the far north when giants walked the earth. These giants were known as fierce warriors from the land of ice; Vikingdom pays homage to these mighty axe-wielders. As befits the legends of old, the symbols are drawn intricately and quite representative of elements of the Nordic realm. Although the lost Tribe of Dan descended into paganism and are thuse closed off to the Most High forever, you can revisit their history with this Saucify slot and perhaps even win some of the cash and prizes that are available in the real money option. It's possible to wager up to $50 per game. The Substitute symbol is the Viking Warrior, and has a lot of potential in this 5 reel, 40 payine video slot.
It's a good idea to play these for free for a spell and get the hang of them; afterwards, consider tossing a few shekels towards them after you download the casino software. It's usually worth a small sum - as long as you gamble responsibly and understand the few rules before you play. You can get a Welcome deposit from the casino House, too, which definitely sweetens the pot, since you just might win using this entry cash. Enjoy all that Mermaid's Palace Mobile Casino has to offer with Instant Play and no obligation to pay.
As for the paid play, this is known as the Download option; you have to install the casino software on your desktop computer or your mobile phone in order to play for real cash. Once done, you can skip to the 5 reel slots selection, the Classic slots or the Table and Specialty Games for multiple rounds of play through the night. The following are a handful of some of the newer video slots on display at Mermaid's Palace Casino: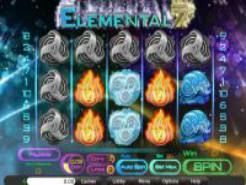 Elemental 7 Slots - Saucify is on a roll with Elemental 7 Slots, which has a brilliant sci-fi theme and background to match. With 5 reels and 10 paylines, it is possible to bet up to 5 coins per line to really maximize your chances at taking home the big game jackpot. This jackpot is worth 2,500 coins and, with a total possible game wager of $50, can lead to a lot of moolah. Along with all of its many attributes, there's a bonus game feature and scatter symbols that deliver free spins to help you extend the current game. The graphics are three-dimensional and really add to the overall gameplay visually - as well as enhancing the enjoyment you receive. If you're an INTP, INTJ, ENTP, ENTJ or INFJ personality type, then you'll most assuredly enjoy the science fiction theme more than most others. To find out for certain, download today and make a deposit to play Saucify's Elemental 7 Slots for a chance at real cash and prizes.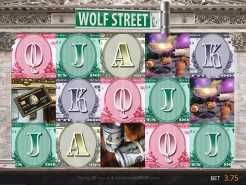 Wolf Street Slots - The Wolf of Wall Street movie starring uber-star Leonardo DiCaprio was huge when it came out, which almost certainly spawned the creation of this eponymous video slot by casino games maker Saucify. With 5 reels and 25 paylines, you needn't have them all activated at the same time as in so many other pokeys. The Wild symbol is represented by a sneering stockbroker, and he can sub in for any other symbol except for the Scattered pink neon sign girl. She can unlock free spins for you; get 3 of a kind on the reels and enjoy 12 free spins. Land 4 of a kind of the neon sign girl and get 18 free spins, and lastly, 5 of a kind is worth 12 free spins for the lucky online casino gamer.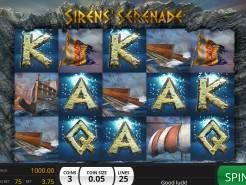 Sirens Serenade Slots - Saucify hits another one out of the ballpark with the visually-stunning Sirens Serenade Slots, which has 5 reels and 25 paylines. The Wild symbols is what looks to be a sea nymph, one of the daughters of the lower god Nereus. It is quite sensible that the Greeks might have seen things this way: waves are chaotic, and so must be sea nymphs to represent the chaotic nature of the woman, in general. Similarly, one of the many incarnations of the mother-goddess is as Diana, Huntress of the Moon - because the moon has many phases and is thus chaotic with a nature that is in constant flux. As for Sirens Serenade, this is a song that did not want to hear if you were at sea in the Olden Times, as their sweet lullaby would draw you to your doom. The Scatter symbol in this game are the rocks responsible for so any shipwrecks of men - it is possible to win up to 18 free spins if you land them on all the reels. As you can see, Sirens Serenade slots is rich with allegory and really tells a story; download today to discover more of what this pokey has in store.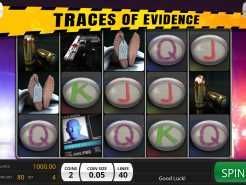 Traces of Evidence Slots - With 5 reels and 40 paylines, what's not to like about this detective-inspired story of searching for clues and a way to making the grade to become detective. This is a pretty large slot, which means it has all of the goodies that you've come to expect from something with 40 paylines. There are free spins, scatter symbols, wild symbols and much more. The Bonus Game feature has a lot in store fo you, as well, and requires the correct number of top scatters to grace the reels in order to be activated. Some of the high paying icons include a blood-spattered gun; 5 of a kind of this icon gets you a payout of 3000 coins. Another is the bagged body symbol; 5 of a kind is worth 250 coins. The final two paying symbols that are not poker card suits are the bullet and the poster of a blue man. The former is worth 100 coins for 5 of a kind and the latter is worth 80 coins for 5 of a kind. The wild symbol is the sheriff's badge and it replaces any other symbol but the scattered computer thumbprint. To discover more goodies, download and play Traces of Evidence slots today.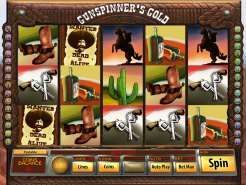 Gunspinner's Gold slots - Sporting 5 reels and 30 paylines, Gunspinner's Gold slots is a bit of an anachronism that takes you back to the Wild Wild West in a bid to trade bullets with Billy the Sundance Kid and other magnificent outlaws. You're looking, of course, for the gold cache that can help you retire and see the rest of the world, perhaps. To aide you along the way, there are free spins attached to the appearance of scatter symbols, a 4x multiplier and many more goodies. Some of the symbols on the reels include a pair of cowboy boots, a Dead or Alive Wanted poster, a bucking horse, bottle of tequila, crossed pistols, a cactus and others. The Wild symbol is an Outlaw, and the Scatter is the Law (Sheriff). Any wins you manage to get when the scatter feature appears are quadrupled in value. Gunspinner's Gold Slots is definitely worth a shot - pun intended - so surf on over to the online casino and play it today.
Banking and Support
Mermaid's Palace mobile accepts US players, and that means that you'll find a great array of suitable depositing methods in the safe and secure cashier. Many US players will deposit using Visa and MasterCard, and you may also use prepaid cards too, the type that can be purchased and loaded in Walmart's and many convenience stores. Non US players may use Neteller, Skrill, EcoCard and other methods, and should you ever need support then the team is on hand 24 hours a day to assist you in any way they can.