Double Double Bonus Poker at Slots.LV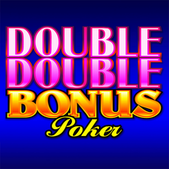 The wonderful US mobile casino Slots.LVare well know for having one of the very best mobile slots selections available to US players, and while that's a fantastic thing to be offering, they have now spiced their mobile casino product up a little and have delivered mobile video poker, in the shape of Double Double Bonus Poker. This adds a great new dimension to the Slots.LV mobile casino offering and boosts the game variety for all palyers, and those players can enjoy this great mobile casino on either Android smartphones and tablets as well as iPhone and iPads. There's a superb welcome bonus on offer at Slots.LV touch and play casino that provides new players with up to a cool $5,000 in casino bonus cash, and there's also an excellent no deposit casino bonus of $22 up for grabs too!
Double Double Bonus Poker is a brilliant video poker variation, and so well suited to mobile play as it delivers very fast action. The optimization process means that this mobile video poker game plays extremely smoothly and the buttons have been made larger meaning that it's a joy to play on the go, or in fact from anywhere. Double Double Bonus Poker is a 5 card draw game in which players may choose to discard any amount of cards they wish to in attempting to create the best possible hand. To be paid a win you'll need a hand of at least a pair of jacks or better, and as with most video poker games the highest paying hand is a royal flush. It's a whole lot of fun on your mobile device and adds nicely to the Slots.LV mobile games selection, and although we know so many players just adore those great mobile slots...having other options is never a bad thing! Check out Slots.LV now and don't forget that when you open an account, with the same login details, you have access to the mobile casino and the regular online casino too.